Hallo!!!
Da ich dazu tendiere immer zu viel zu machen (was, ist euch noch nicht aufgefallen?! ;-)) und nicht vollkommen gestresst aussehen möchte zu meiner Hochzeit im August, hab ich mir etwas überlegt: ich gönne mir eine kleine Sommerpause und werde hie und da (ungefähr 1x pro Woche) einen Gastpost von jemand anderem schreiben lassen!! Ich habe dazu einige tolle Blogger angeschrieben deren Blogs ich selbst gerne lese…nur das Beste für meine Leser!!
Since I tend to do too much (what, you didn't already know that?! ;-)) and don't want to be a completely stressed out bride in August, I came up with something: I allow myself some more free time this summer and get to post a guest post from time to time (about once a week)! I therefore asked some great bloggers whose blogs I love to read…only the best for my readers!!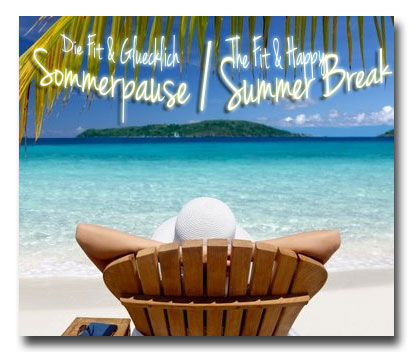 Den Anfang macht Antonia vom Blog Healthinspirations:
Antonia from Healthinspirations is the first one: 
Hi! My name is Antonia and I blog at Health Inspirations.  
When Ulli asked me to write a guest blog I immediately said yes since I think her blog is the perfect balance between fitness inspiration and delicious looking, healthy food. Thanks for having me today!
 I started my blog in 2011 as a way to document my life, my favorite recipes and share healthy eating inspiration. I used to have an eating disorder and I hope that through my blog I can portray that health and happiness are possible, even after suffering from ED, although if it may seem impossible to many young girls!
 If you check out my blog you will immediately notice that I now post a wide array of recipes, ranging from salads to desserts. I particularly love sharing Austrian recipes. Since I write my posts in English, I have readers from all over the world, especially from America, UK and Australia and not so many from German speaking countries. However, as a proud Austrian, I naturally believe that the Austrian cuisine is among the best in the world (…but then again everyone thinks that there nation's food is the most drool-worthy) and want to share as many traditional Austrian recipes with my readers as possible.
 Luckily, ever since starting my blog I've been able to try out many different recipes, developed and posted by bloggers all over the world and I believe discovering the wide range of different recipes really is one of the best things about blogging…apart from being part of an amazing community, of course!
 I try out as many recipes as possible, most that I've either pinned or seen on other blogs and believe that this helps me be more creative in the kitchen and when I develop my own recipes. 
Just the last couple of days I've had Lebanese, Italian, American, Austrian and French food and most of the recipes were inspired by recipes posted by other bloggers. One of my recent, popular recipes that I posted on my blog was inspired by a recipe in Beatrice Peltre's cookbook La Tartine Gourmande. I re-created her Watercress and Salmon Quiche and came up with this Salmon and Spinach Quiche, which was perfect as a light lunch on a hot summer day. And since it was quite popular on the blog I thought I'd share it with you all.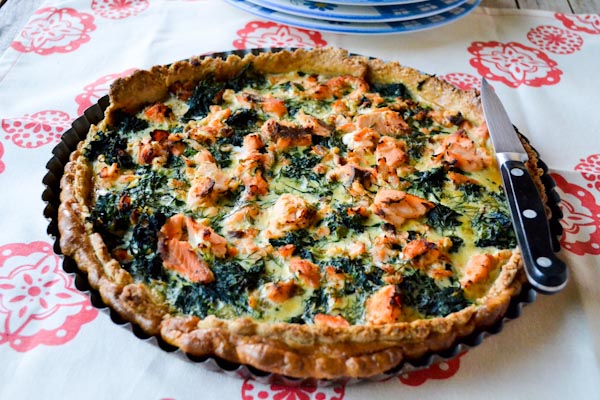 Spinach and Salmon Quiche
makes 1 30cm quiche
Ingredients:
For the spelt, oat and almond crust
100g spelt flour

60g oat flour

50g almond flour

1 1/2 tsp. xanthan gum

1/2 tsp. salt

100g butter + extra for buttering the tart mold

1 egg

1-2 tbsp water

1 egg white
For the quiche filling
300g frozen spinach, blanched (excess water drained off)

olive oil

250ml milk

salt + pepper

chilli flakes

250g skinned salmon

4 eggs

175ml heavy cream

a dash of grated nutmeg

2 tbsp. chopped dill

3 small scallions, finely chopped

1 small onion, finely chopped (or 1/2 big onion)
 Directions:
 For the spelt, oat and almond crust
The dough should be prepared at least 1 hour ahead, preferably the day before.
In a stand mixer with a paddle attachment mix together the flours, salt and xanthan gum.

Add the butter (1 tbsp. or small cube) at a time and beat until nice and crumbly.

Add the egg, continue to beat until incorporated. If necessary add 1-2 tbsp. of water.

Form a dough ball, wrap it in cling film and refrigerate it for at least an hour (or overnight).

Take the dough out of the fridge about an hour before using it.

Before using the dough, preheat the oven to 190°C.

Then roll it out onto a clean surface to fit the tart mold.

Butter the pan, transfer the dough to the mold and using a fork make small holes in the bottom.

Bake the crust for 10 minutes, then brush the crust with egg white and bake for another 5 minutes.
 For the quiche filling
This can be done while the crust in pre-baking in the oven.
Add 1-2 tbsp. of olive oil to a pot. Then add the blanched and drained spinach and sauté for a couple of minutes. Set aside.

In another pot, heat up 175ml milk, salt, pepper and some chili flakes. Once simmering add the salmon, wait 3-4 minutes, remove from heat, cover with a lid and and wait for 8-10 minutes.

In the meantime whisk together the eggs, heavy cream, remaining milk, salt, pepper and chilli flakes. Add some nutmeg and dill and set aside.

In a pot (e.g. the one you used to sauté the spinach) heat up 2 tablespoons of olive oil. Add the scallions and chopped onions and cook for 3-5 minutes. Remove from the heat, then add the spinach.

Remove the salmon from the milk and crumble into small pieces.

Into the crust that should be pre-baked by now, add the scallions, onions and spinach. Add the salmon on top and carefully pour the egg-cream mixture into the crust.

Bake for about 20-25 minutes (the egg-cream mixture should be set and the quiche should be golden. Let the quiche rest 5-10 minutes before serving.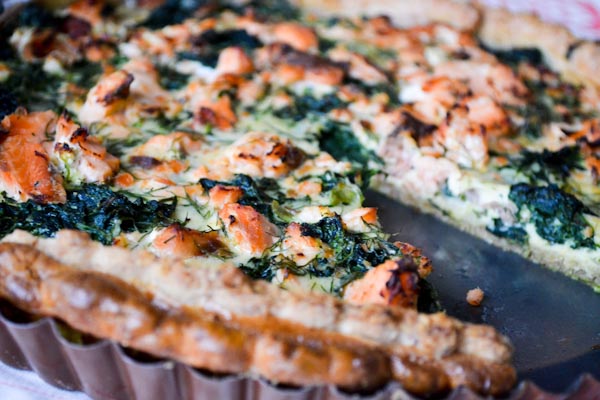 I really hope I'll see you over at Health Inspirations soon and thanks again, Ulli, for letting me introduce myself to your readers! 
Vielen Dank liebe Antonia für dieses tolle Rezept!! Ich wünsch euch einen schönen Abend!!
Thanks a lot Antonia for this great recipe! I wish you a great evening!!